Scotland boasts some of the world's most beautiful and iconic locations featured in famous film and literature, with many blockbuster movies and TV programmes filmed here.
Think of the Hogwarts Express taking Harry Potter to the magical setting of Hogwarts School of Witchcraft & Wizardry surrounded by Scottish hills and lochs, or Claire and Jamie Fraser's epic love story in Outlander.
These itineraries list a menu of film locations and related attractions for whichever regions your clients would like to explore, including stately homes, castles, breathtaking landscapes, steam trains, canal journeys, historic bridges and storytelling attractions.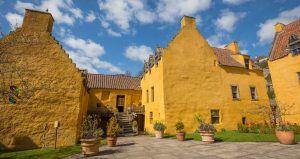 A Royal Passion for Scotland – Perthshire, Fife and Edinburgh
Film & TV Locations – Stirling, Clackmannanshire, Falkirk and West Lothian
Film and Literature – Angus, Perthshire, Fife and Edinburgh
Storytelling – Edinburgh, West Lothian, Stirling, Perthshire, Fife, Angus and Aberdeen